About Golfmark and Clubmark
Kirtlington GC plays an active role both regionally and nationally when it comes to raising best practice standards at UK golf clubs.
 
In recognition of this, we were one of the first golf clubs to be awarded the Junior GolfMark in October 2005. The club was re-accredited with the upgraded 'Golf Mark incorporating ClubMark' award in September 2008.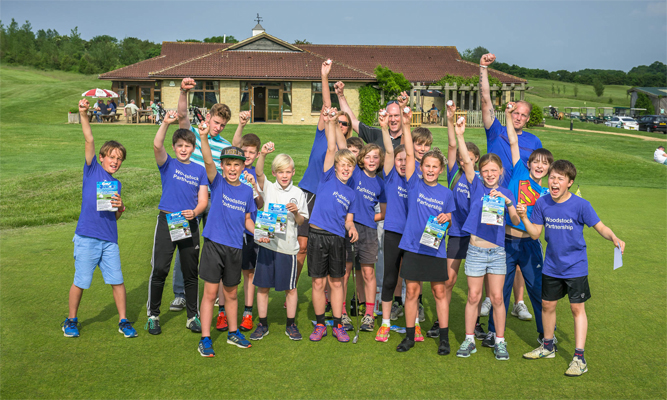 Clubmark – awarded by Sport England
Clubmark is Sport England's national accreditation scheme for high-quality community sports clubs. It recognises the highest standards of welfare, equity, coaching and management.
There are now more than 14,000 Clubmark-accredited clubs across more than 50 different sports in England.  England Golf is one of around seventy National Governing Bodies licensed to award Clubmark, which was introduced by Sport England to:
Assist in its drive to increase levels of participation in sport
Empower parents and carers when choosing a club for their children
Enable adults to choose the right kind of club to join
Provide a focus around which all organisations involved in sport can come together to support good practice and safeguarding in sports clubs
Ensure that organisations offering accreditation apply common criteria, so that good practice and minimum operating standards are delivered through all club development and accreditation schemes
And to ensure that Clubmark-accredited clubs are recognised through a common approach to branding
The Clubmark criteria is based on four key areas of club development, which are incorporated with the GolfMark criteria, so once a club is awarded GolfMark, they have also met the required standards in Clubmark.
Golfmark – Awarded by England Golf
GolfMark has recently been updated and enhanced to better meet golf club requirements in today's challenging commercial landscape, with an increased focus on improving business practices and development while also supporting the delivery of the club priorities within the forthcoming England Golf 2017-21 Strategy.
GolfMark is a national accreditation designed to support all golf clubs as they strive to achieve distinct operating standards in four areas of a club's business activity:
Recruitment & Retention – supporting your golf club to attract new members and increase the participation of existing members
Management & Sustainability – helping to develop your golf club through practical business planning
Safeguarding – ensuring that your club has appropriate policies and procedures in place
Golf clubs are asked to meet a number of 'essential requirements' in the four areas. These are a set of standards aligned to Sport England's Clubmark criteria. They need to be maintained annually by golf clubs through an annual action plan. Golf clubs can also work towards 'High Performing Areas' which will help to support their future development. By implementing these areas and accessing the appropriate guidance and support, this will help certain golf clubs to become true high performers.
No Results Found
The page you requested could not be found. Try refining your search, or use the navigation above to locate the post.